The most versatile and effective outdoor cooker ever designed!
Big Green Egg is the world's largest producer of the highest-quality ceramic kamado-style charcoal grill. It is the most
versatile cooking device ever. Zagers offers delivery and assembly.

CLEARANCE!  ALL BIG GREEN EGG GRILLS & EGGCESSORIES NOW 40% OFF!
Applies to all in-stock Big Green Egg products. While supplies last. Sales ends May 28, 2022.
Why Choose a Big Green Egg?
It's a grill, smoker, and oven
Simple to start – Never buy lighter fluid again
Precise temperature control
100% lump charcoal for superb flavor
Made in the USA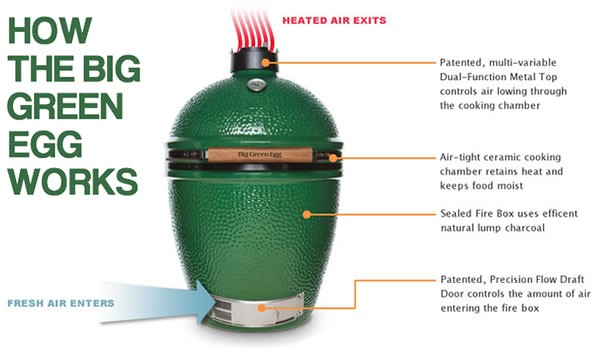 Provides a cooking area that can easily accommodate meals for large families and cookouts with all your friends.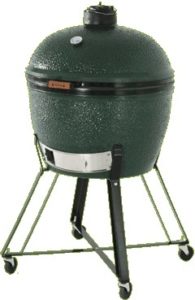 The XLarge EGG can cook:
• 2 20-pound turkeys
• 24 burgers
• 11 whole chickens
• 12 steaks
• 12 racks of ribs vertically
Grid Diameter: 24 in
Cooking Area: 452 sq in
Weight: 219 lbs
The most popular size and a favorite to handle the cooking needs of most families and gatherings of friends.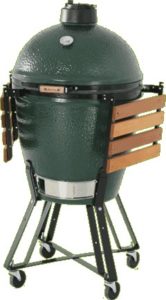 The Large EGG can cook:
• 20-pound turkey
• 12 burgers
• 6 chickens vertically
• 8 steaks
• 7 racks of ribs vertically
Grid Diameter: 18.25 in
Cooking Area: 262 sq in
Weight: 162 lbs
Happiness in a smaller package! The Medium Big Green Egg is perfectly sized for smaller families and couples.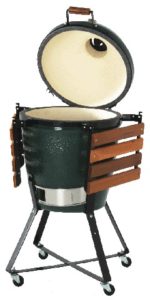 The Medium EGG can cook:
• 18-pound turkey
• 6 burgers
• 3 chickens vertically
• 4 steaks
• 4 racks of ribs vertically
Grid Diameter: 15 in
Cooking Area: 177 sq in
Weight: 114 lbs
Big Flavor in a compact package! The Small Big Green Egg is an easy fit for smaller patios and balconies.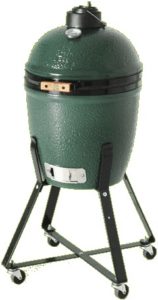 The Small EGG can cook:
• 12-pound turkey
• 4 burgers
• 1 chicken vertically
• 2 steaks
• 1 racks of ribs vertically
Grid Diameter: 13 in
Cooking Area: 133 sq in
Weight: 80 lb
The MiniMax is perfect for camping, poolside and tailgating at the ballgame. It is also at home in award-winning restaurants.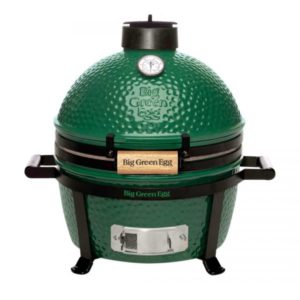 The MiniMax EGG can cook:
• 12-pound turkey
• 4 burgers
• 1 chicken vertically
• 2 steaks
• 1 racks of ribs vertically
Grid Diameter: 13 in
Cooking Area: 133 sq in
Weight: 76 lb