Create a Vacation In Your Backyard with an In-Ground Pool
When the weather is nice, do you find your family moving in different directions? Are your kids bored, gone all the time, or glued to a phone?
Adding an in-ground pool creates a daily opportunity for a vacation in your own backyard. There's no screen time in the pool! Kids will want to spend time at home, and you'll get to know their circle of friends. Plus, parents can enjoy some peaceful moments alone. Your pool transforms your backyard into a gathering place to unwind and reconnect – all without packing a bag.
Our team is here to be as transparent as possible in planning, installing and maintaining your in-ground pool.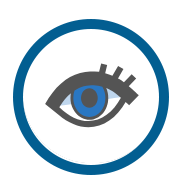 In-ground pools flow with your landscape, do not create obstructions and are very pleasing to the eye.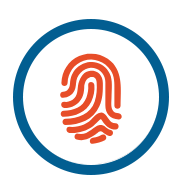 Your pool is customized to your desires. You choose each feature including shape, lighting, waterfalls, sun ledges… This is YOUR pool.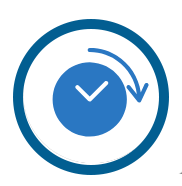 In-ground pools easily last for 20+ years with proper maintenance. And, they are more durable year round in West Michigan.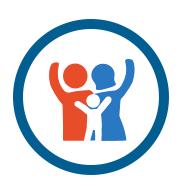 In-ground pools allow you to spend quality time with your spouse, children and friends.
Top Things to Consider When Planning your In-Ground Pool
Zagers is here to help guide you in making big and small decisions about your pool that will turn your vision into reality. 
We encourage you to walk through the areas below to start to get an idea of your pool likes and dislikes.  Looking for inspiration?  View our in-ground pool gallery!
When choosing your pool shape and size be sure to consider how it will flow with your landscaping, how many people will use it, and what it will primarily be used for (lounging, sports, cannonballs...). We also recommend determining constraints in your yard such as easements, septic fields, and association rules. In West Michigan, vinyl liner in-ground pools are most popular and can be built with either a steel or polymer frame. They are completely customizable -- think sun ledges, steps, and depth.
Best selling vinyl liner pool shapes: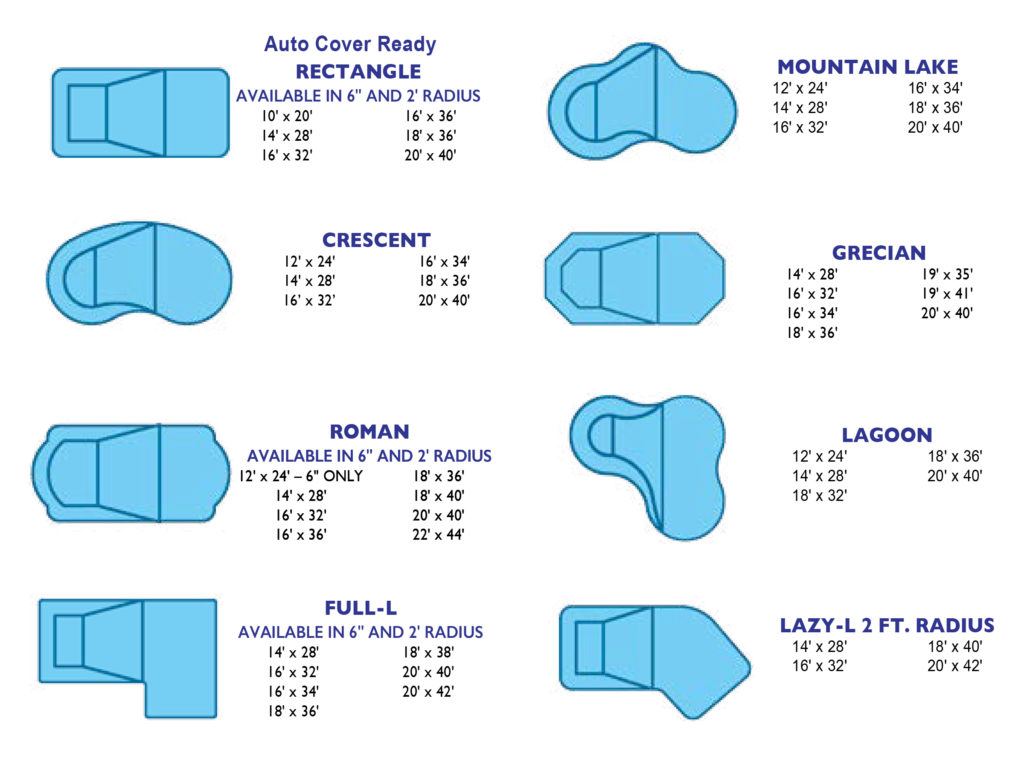 We also offer extremely durable, long-lasting fiberglass in-ground pools. The initial cost is higher, but you will not need to replace a liner which can save you money down the road. There are lots of options, but they do not offer customization.
Popular fiberglass pool shapes: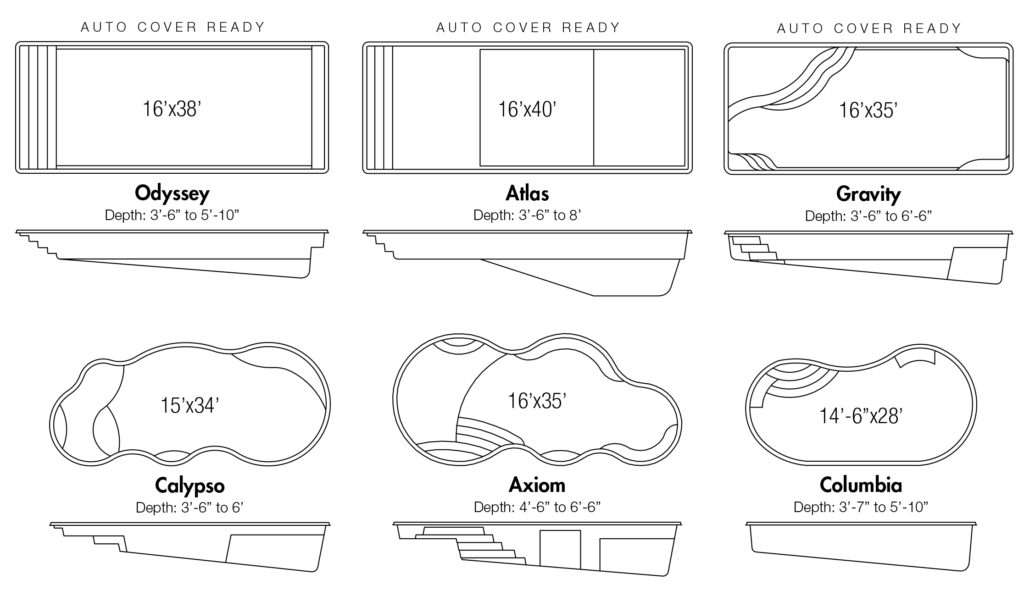 A gorgeous in-ground pool liner adds a breathtaking design element, glimmering and dancing in the summer sun.
Pool Entry
Handrails and Steps can add distinct design elements and comfy places to lounge or play in your pool. Below are very popular options for vinyl liner pools. Fiberglass pools will only need handrail selection.
Standard Handrails, Stair Rails and Ladder
no images were found
Designer Handrails, Stair Rails and Ladder
no images were found
Thermoplastic Steps
The thermoplastic surface will never delaminate, splinter, corrode, or puncture. Available in white, blue or gray.
no images were found
Vinyl Over Steel Steps
Only available on Steel frame Vinyl Liner Pools.
no images were found
Water Features
MagicStream Laminars add dramatic sights and sounds to your poolscape by creating uniform arcs of water that are crystal clear by day and vibrantly colored by night.
View the Pentair Laminar video here.
no images were found
Lighting
GloBrite lights utilize the industry's most advanced technology to showcase and enhance your pool's shallow water features, making your poolside evenings go from great to spectacular.
no images were found
Pool Automation
We carry pool automation systems that empower pool owners with full control of their pool ecosystem from pool pumps, heating products, sanitizing, water chemistry, water features, and lighting.
no images were found
Pumps
Pentair is an industry leader in pool pumps and has earned the U.S. Environmental Protection Agency's ENERGY STAR® designation by being at least 30%-72% more energy-efficient than others in the industry.
no images were found
Filters
We offer diatomaceous earth (D.E.), cartridge and sand filter options to keep your pool sparkling clean and healthy.
no images were found
Heaters
We carry pool heaters and heat pumps that are leading a new revolution in energy efficiency, user convenience, and emissions reduction.
no images were found
Decking
Our in-ground pool packages start with 4ft of concrete on the long sides and 6 feet of concrete on both ends. A majority of our customers opt to add additional concrete to add more patio space and create a cohesive backyard space.
no images were found
Fencing
The most popular fencing options are black aluminum, chain link and vinyl privacy. If you have an existing fence, we will need to assess what modification may need to be made as all gates must be self-closing and self-latching and must meet safety pool standards.
no images were found
Note: If you plan to install an Auto Cover, fencing is not required in MI.
Automatic Pool Covers
Auto Covers are a great option in MI as it eliminates the need for a fence. It is a convenient way to keep dirt and debris out of your pool, reduces heat loss and most importantly prevents accidental access by children and pets. Available in 11 colors.
Watch our Auto Cover Video.
Note: If you choose an Auto Cover, we strongly encourage you also invest in a safety cover. It will protect the mechanisms, reduce operational issues and prolong the life of your Auto Cover.
no images were found
Safety Cover
We highly recommend our Bloc Mesh 99 Safety Cover. It is strong, UV ray protected, porous and will preserve your pool over the inclement Michigan winter months. Available in blue, green, grey and tan.
Watch our Safety Cover Installation Video.
no images were found
Slides
Add fun and excitement to your pool with a slide!
no images were found
Games
Looking for a fun way to get active and stay cool? Look no further. We have fun games for all ages.
no images were found
Diving Boards
There is nothing like diving into a serene pool …or jumping off with legs tucked in yelling, "Cannonball!!" An optional waterfall kit can be added to the T7 Diving board for optimal enjoyment.
no images were found
In-Ground Pool Consultation Process
Here's our approach to planning and building your pool.
1. No-Obligation Initial Consultation.     In-person or over the phone.
2. On-Site Visit.   A yard assessment and water-table test completed.
3. In-Depth Consultation.   Final decisions on pool design & features.
4. Final Design & Quotation Completed plan with final cost provided.
5. Deposit.      This secures your slot on the pool installation schedule.
We've designed and installed hundreds of in-ground pools throughout West Michigan. Once the plans are approved and your pool build is scheduled, our experienced in-ground pool installation crew takes the reins from there.
In-Ground Pool Installation Video Series
In-Ground Pool Installation - Part 1
In-Ground Pool Installation - Part 2
In-Ground Pool Installation - Part 3
After the build it's okay if you don't know everything about pool care or need something serviced. We are here to educate and guide you through pool ownership. You'll have a personal walk-thru on equipment usage and pool maintenance at the conclusion of your pool build and installation. You also have access to the largest Service Department in the area ready to help you (our fleet of vans on the road are hard to miss.)
Feel free to step into one of our 4 locations and speak with one of our knowledgeable associates as well. Ask questions, get your water tested, stock up on inflatable donuts…. whatever floats your boat!