You may have heard about semi in-ground pools, which have gained popularity in recent years. If you're considering a semi in-ground pool, be sure to educate yourself and consider the pros and cons before taking the plunge.
What Exactly is a Semi In-Ground Pool?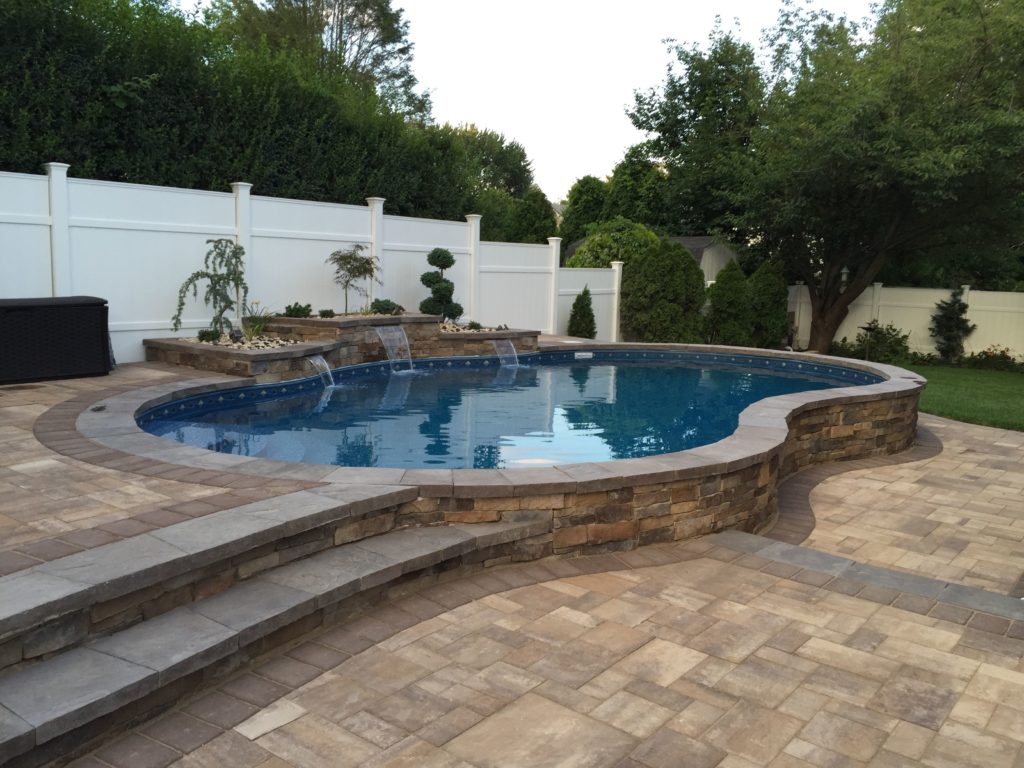 Semi in-ground pools are a trendy option on the market, and just as the name implies, it is a hybrid between an above-ground pool and in-ground pool. They're also known as semi above-ground pools, partial in-ground/above-ground pools, and recessed pools.
Semi in-ground pools most often are recessed so that part of the pool is below ground, and the other part remains above ground. While there are various designs, many semi in-ground pools have a deck built around a section of the pool or around the entire pool. They often feature stone-tiled short walls around the above-ground portion, making them visually appealing.
So what are key considerations when looking to purchase a semi in-ground pool?

1. Semi In-Ground Pool Structure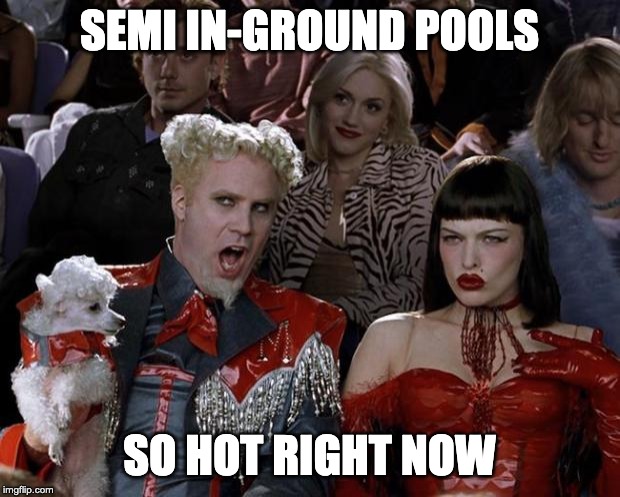 Just because something is hot right now, doesn't mean it is better. A semi in-ground pool structure is made of lower grade materials than the structure used for in-ground pools, and therefore is not as sturdy. You should still be able to get years of enjoyment from a semi in-ground pool, it just may not last as long, costing you more in the long run. To learn more about the lifespan of a pool, read our article: How Long Does a Swimming Pool Last?
2. Costs of a Semi In-Ground Pool
Customers sometimes like the idea of a semi in-ground pool because they've heard they're less expensive. While that can be true in the sense that the cost of the pool itself is lower, keep in mind that semi in-ground pools also require excavation, decking, an enclosure, in-ground grade equipment, and landscaping. When you add in those costs, the total typically comes in at or just below the price of an entry-level in-ground pool that has a superior structure.
3. Semi In-Ground Pool Sanitizer
Standard Chlorine will work for these pools as a safe, easy and effective way to sanitize the pool. However, if you are partial to salt water pools, you will need to ensure that the structure is built to withstand the highly corrosive nature of salt. Salt water semi in-ground pools are available, just ensure you do your research. If the structure is not rated to handle salt, there are also other natural mineral sanitizing options if Chlorine doesn't float your boat. For more information on managing your pool's chemicals, consider reading our article on lowering chlorine levels.
4. Landscaping for Semi In-Ground Pool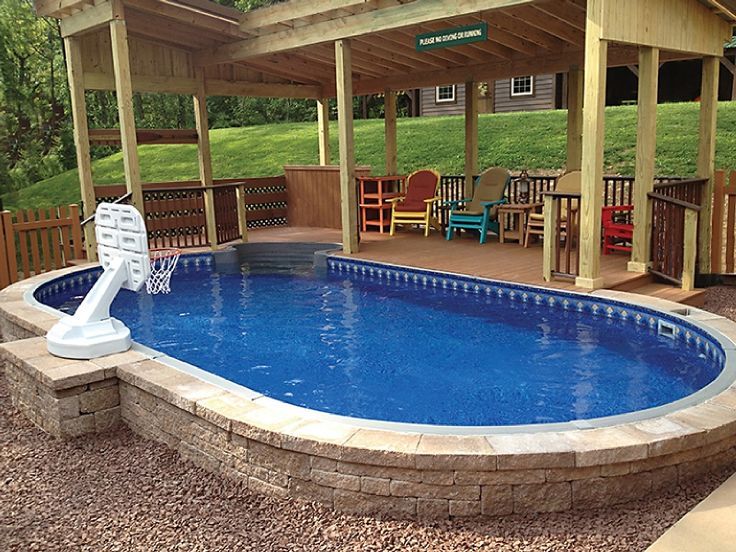 Most often, people consider a semi in-ground pool when they don't have a large flat yard. Because of the versatility of recessed pools, they can be installed in uneven areas, including backyards with a slope or even a steep hill. However, if you have a sloped backyard, you should also consider the potential effects of erosion over time, which could add significantly to your long-term costs.
If you do have the type of topography best suited to a semi in-ground pool, once you decide on its placement, you'll want to choose the landscaping that best compliments it. Many customers like the look of a deck, lighting, natural or artificial stone, and plants, all of which affect the overall cost.
Pro tip: Be sure to choose your plants strategically, considering your region's hardiness zone (most of Michigan is zone 5, with a few areas in zone 6) and ongoing maintenance. If you're planting trees, for example, using deciduous ones will limit flowers and leaves dropping into your pool.
5. Pump Costs for Semi In-Ground Pools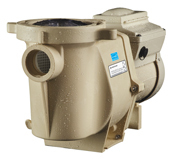 It's imperative to purchase the right pool pump for your situation. Occasionally you may be able to use an above-ground pump for a recessed pool but most often you'll need an in-ground pump and skimmer.
Although in-ground pumps tend to be more expensive, it's worth the investment. Not only are in-ground pool pumps self-priming, they're also designed to pull water up, functioning differently than above-ground pumps, which sit below the water level. Additionally, investing in a Pentair variable speed pump can cut annual energy cost significantly. Depending on pool size, can save you between 78 – 92%* in annual energy cost (in West Michigan).  

Ready to Browse?
If you're looking for online inspiration, check out Zagers' Houzz profile for lots of ideas. When you're ready to get started, request a quote. Zagers' pool experts can provide recommendations, and help you determine whether a semi in-ground, above ground pool with a deep end, or a traditional in-ground pool best fits your needs based on your yard's topography, your personal preference, and your budget.
We'd love to help you transform your backyard into a beautiful summer oasis, where kids can play, adults can relax, and a lifetime of memories will be made. We look forward to working with you!