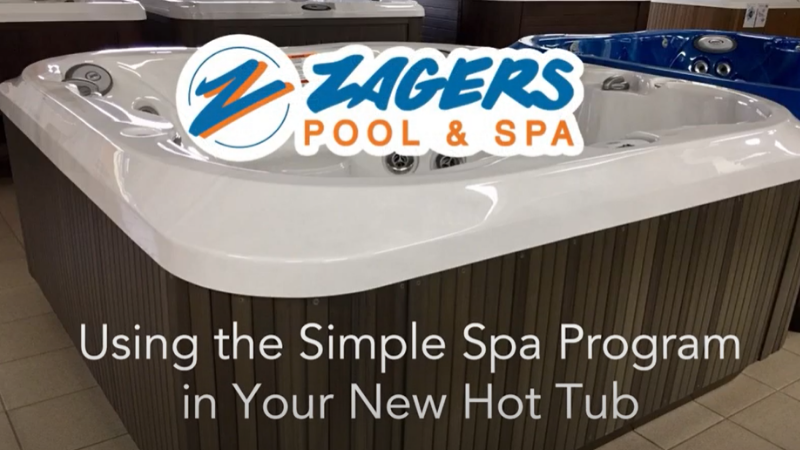 The outdoor temperature is dropping, snowflakes are starting to fly, so now is a great time to invest in a new hot tub. But before you can take your first soak, make sure you've properly prepared the water with the right chemicals. The Simple Spa Program and SpaGuide products, available at Zagers, offer everything you need for hot tub start up and maintenance. Pick up everything at your nearest Zagers, then follow these step-by-step instructions.
1. Simple Blue™ Fresh Start
Pour Fresh Start into your hot tub and let it run for 24 hours. It will remove the impurities from your water. After 24 hours have passed, take your filters out and spray them with a garden hose, then put them back. This will remove any additional contaminants.
With your filters back in, it's time to make sure your water is balanced. We recommend taking a water sample to your local Zagers store to have it professionally tested. Once your pH, and alkalinity are in check, proceed to the next step.
2. Simple Blue Simple Stick
This mineral stick uses copper and silver to purify the water in your hot tub. You'll want to place the Simple Stick either in the filter cartridge or on top of it, wherever water can flow over it the best, because that's how the minerals get pulled into the water. A Simple Stick is good for three months and each one has a timer on top of it. Press the timer button and it will automatically turn black in three months when it's time to change it out. It's also helpful to put a reminder in your phone or on your calendar.
3. Simple Blue Simple Spa
In conjunction with the Simple Stick, you'll also want to use the Simple Spa product, which has natural minerals in it. Pour Simple Spa right into your water, using 4-6 oz per 400 gallons. As soon as you finish pouring, you can get into your hot tub, because the Simple Stick and Simple Spa work together like magic to make your water safe.
4. SpaGuard Chlorinating Concentrate
Every time you get out of your hot tub, pour 2 Tbsp per 400 gallons of SpaGuard Chlorinating Concentrate into the water and then you'll be good to go for your next soak.
5. SpaGuard Enhanced Shock
Every few weeks, add 2.5 Tbsp per 400 gallons of SpaGuard Enhanced Shock and run the jets for 30 minutes. What this does is make your skin feel softer and avoid that dry, itchy feeling often associated with hot tubs.
Help with Your Hot Tub
Contact us if you have any questions about the chemicals for your hot tub, whether it's balancing your water, which ones you need, or how much to use with your specific spa.
Hot tub having an issue? We also do repairs! Want someone to open your hot tub for you? We can do that, too! Just fill out this form and we'll be in touch.