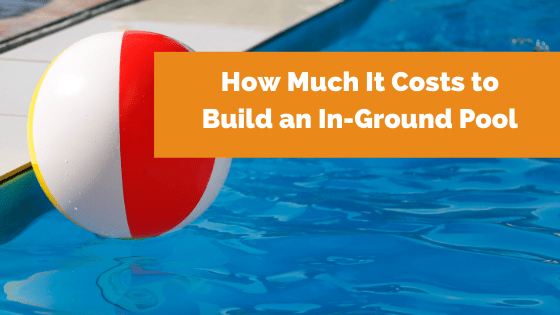 Do you dream of lying by a pool in your own backyard, cooling off with a swim, and relaxing in your own private sanctuary? Do you wonder it would cost to bring this dream to life? We're here to help give you an idea.
In-ground pool costs can vary greatly depending on the type of pool you choose, the features you add, and the size and location of your pool. When you work with us, you get a turnkey pool package—you choose the pool and options you want, and we take care of the rest, including installation. Most customers finance their pool through their bank, but we can help with financing options as well.
Note that these price ranges are for West Michigan. You may find that pricing varies in other regions of the country, or even within the state. If you're researching in-ground pool costs from other companies, be sure to get an itemized quote so you can compare apples to apples. Our quotes include everything needed for in-ground pool installation and upkeep with the exception of landscaping.
Cost is Mainly Determined by Pool Material
The variance in in-ground pool cost mainly comes down to the material the pool is made from. Each material has pros and cons, including the cost of upkeep and how long they tend to last. Let's take a look at the two options that Zagers installs.
Vinyl-Liner In-Ground Pool Cost
Vinyl liner in-ground pools are often the least expensive option up-front, although the maintenance costs can make them more expensive than fiberglass pools in the long run. Vinyl liner swimming pools are easy to customize, because they're made from modular panels, giving you practically free reign in terms of design. It's also easier for installers to transport them and fit them through tighter spaces (like between closely-set homes). Vinyl liner pools, with installation, generally range from $50,000 to $80,000. Again, this range includes everything needed to get your pool up and running (equipment, handrails, concrete decking, maintenance tools, startup chemicals). The higher end of the range includes extras such as a heater, diving board, slide, automatic pool cover, extra concrete, etc. 
Pros
Vinyl liner pools are highly customizable due to their modular panel construction.
If you'd like a deep end for diving or general pool time fun, it's easy to have an 8' or deeper depth with a vinyl liner pool.
Vinyl liner in-ground pools are fairly easy to clean.
You can create a unique look with vinyl covered custom steps and sun ledge — or add a durable thermo step entry into your pool.
Cons
You'll need to replace the liner every 8-10 years, which typically costs $3,000-$5,000. On the plus side, a new liner can be replaced in a day or two and will make your pool look brand new. (Side note: you can also have fun picking a new pattern that can give your pool water a completely different look!)
Metal items can rust a vinyl liner, debris like leaves can stain your liner, and it's possible to damage your vinyl liner with sharp objects not intended for use in a pool, so regular upkeep is important.
Fiberglass In-Ground Pool Cost
Fiberglass in-ground pools are very popular, with the primary reason being the style and ease of maintenance. You choose a fiberglass in-ground pool from the available sizes and shapes, which are pre-fabricated as one large piece. Once you've made your selection, installers excavate a customized hole in your yard, and then deliver and install your new fiberglass pool. On average, you can expect a price tag of around $70,000 – $90,000 for a fiberglass in-ground pool. Keep in mind, this range includes everything needed to get your pool up and running (equipment, handrails, concrete decking, maintenance tools, startup chemicals). The higher end of the range includes extras such as a heater, diving board, slide, automatic pool cover, extra concrete, etc.
Pros
Its surface is quite smooth, which makes it easy on everyone's feet.
Fiberglass tends to be fairly low maintenance and easy to clean.
Fiberglass doesn't require a liner replacement (like vinyl) or an acid wash and paint (like concrete), making the ongoing maintenance costs much lower than other types of in-ground pools.
Cons
You can only choose from the available shapes and sizes, so fiberglass pools aren't highly customizable.
A majority of design options are typically limited to 4' to 6' in depth which means no diving.
Fiberglass pools are tough to deliver in tight spaces and may require additional fees for a crane (or may not fit at all).
In-Ground Pool Operational Costs
The last thing to consider is the maintenance costs associated with owning an in-ground pool. Here's a quick guide to help manage expectations:
Chemicals: Typically you'll spend $350 – $500 on maintenance chemicals and some balancers. Keep in mind that some years there are algae outbreaks or environmental factors (pollen, heavy rains) that can increase this cost, other years it's smooth sailing.
Electricity: If you're operating a variable speed pump (which is what we put on all our in-ground pools), it'll add a very low $10-$20 per month to your electricity bill.
Heating: Monthly cost of running a gas heater is approximately $80-$90 per month. You may choose to run your heater heavily at the beginning and end of season and not at all in the middle. The other option is a heat pump. There is a higher upfront cost for the unit, but the monthly cost is less as it harnesses the sun. Heat pumps tend to cost $50-$80 per month to run. Here's more on the different pool heaters to help you determine which you'd prefer.
Pool Services: If you choose to use professionals to open and close your pool, you may spend about $400 – $500 for each service (which includes chemicals). If you are a do-it-yourself pool owner, you can save yourself the labor costs, but we'd highly recommend at least having a professional blow your pool lines (roughly $250) when you close your pool for the season to prevent plumbing from cracking in the winter months, which could result in extensive, costly repairs.
Long-Term Maintenance: As mentioned above, vinyl liner pools will need the liner replaced every 8-10 years so it's best to budget $3,000-$5,000 each decade.
No matter which type of in-ground pool you're interested in, adding one is a great way to invest in your family! As a first step, we suggest determining your budget and compiling a list of your must-haves and nice-to-haves. Our in-ground pool specialist will then be able to help you determine the right pool type, size, and features to meet your needs.
Ready to get started? Check out our gallery to get an idea of what you want, take a look at the top things to consider when planning your in-ground pool, and then contact us for more information. You'll be on your way to changing the way you relax at home in no time.