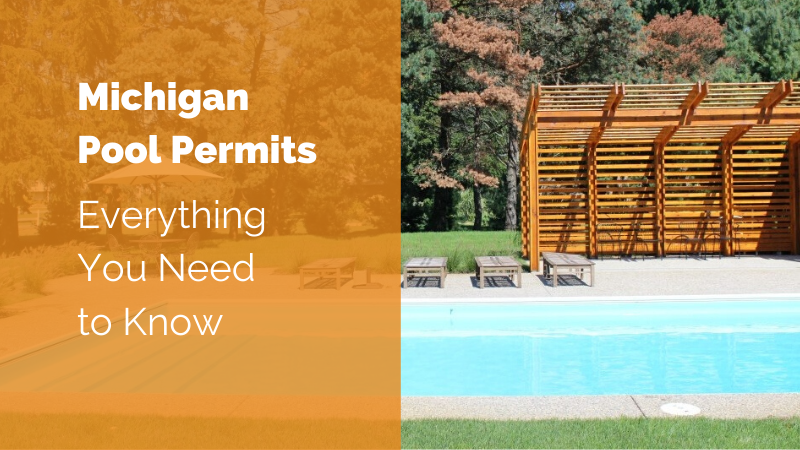 You've decided to install a pool…Hooray! Let the fun begin!
We know you're ready to get the ball rolling, but first, there are a few permits you (or your contractor/pool installer) need to pull to make sure you're in compliance with Michigan law. Here are the most common questions we get from customers about obtaining pool permits in Michigan.
Do I need a permit for an in-ground pool?
Yes, 100 percent. All Michigan townships/cities require you (at a bare minimum) to have a residential building permit and an electrical permit in order to build an in-ground swimming pool.
Other possible permits, depending on your local municipality, can include a soil and erosion permit, DEQ permit, fence permit, and/or mechanical permit (if installing a gas pool heater) along with zoning approval.
What's the good news? If you have contracted with Zagers to build your in-ground pool, we research and ensure that the required permits are pulled on your behalf!*
Do I need a permit for an above-ground pool?
Also yes. Similar to in-ground pools, you'll need at least a residential building permit. Other permits you may need include, but are not limited to, electrical permit, plumbing permit, and fence permit. You'll also likely need zoning approval.
Why are pool permits required?
In general, these permits are required to ensure the safety of those enjoying the new pool. By properly following building safety codes, many water-related injuries in and around pools can be avoided. Obtaining permits also help ensure that any existing infrastructure, such as sewer lines, septic systems, etc. are protected and maintained during the construction process.
What are Michigan's pool permit requirements?
Currently, the 2015 Michigan Residential Code requires that you provide all of the following information before they'll issue a permit:
Completed application
Site plan
Pool barrier information

Whether or not you have an automatic pool safety cover that complies with ASTM F1346
Barrier specifications (fencing), and confirmation that the gates outswing, self-close and latch
If you use your house as one of the barriers, that you have door and/or window alarms and that these alarms meet UL 2017 standards.

Drain cover specifications (if applicable)
Diving pool specifications (if applicable)

Dimensions, sidewall slope and depths.
Also important to note that the final inspection must be requested within 5 days of completion and approval obtained prior to use.
How much does a swimming pool permit cost?
Swimming pool permit costs vary in each township/city. The cost of a residential building permit is typically determined by the cost of the installation and generally runs $150-$300. Electrical permits are pulled simultaneously and generally run $80-$150. Keep in mind that there are typically additional fees for zoning approval and other permit requirements based on your property and site plan.
We've found local municipalities to be very helpful in explaining what permits are required, so don't hesitate to contact your local office and ask.
Should you have any questions about in-ground pool permits, we are happy to point you in the right direction. If you're investigating swimming pool or hot tub options, we'd love to talk to you about what you're looking for. Stop in to any of our 4 locations or request a quote online today.
*Mechanical permits are the responsibility of the licensed mechanical contractor the homeowner chooses to run the gas line to the pool heater.