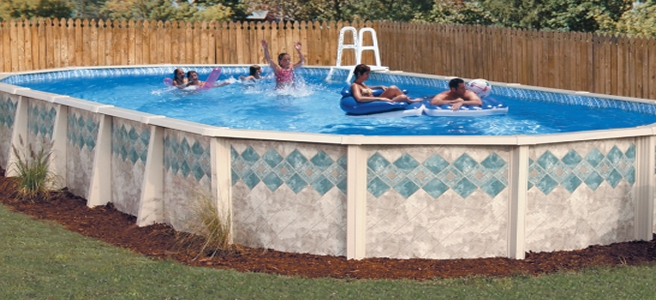 There are many choices when it comes to finding the right pool liner. Doughboy Pools offer a wide selection of liners for a wide variety of applications. They are also the go-to resource for pumps, filters, accessories as well as above ground pools, recessed pools and pool kits. Today, there are many different options for pool liners. Materials, thickness and even pattern can come into play when selecting the right one. In fact, Doughboy is the only above ground pool manufacturer that is also a principal producer of virgin vinyl-liner material. This article will provide a few reasons why Doughboy pool liners are the right option.
What is a Pool Liner?
While it might seem simple, a quick background on pool liners can be very helpful to new pool owners. First, a pool liner is a custom sheet of material, usually vinyl, that is situated between the water and the pool structure. On average, vinyl pool liners last anywhere between five and twelve years. Properly installed and maintained liners can last longer, although it is recommended to replace it sooner to prevent tears or wrinkles.
How is a Doughboy Liner Different?
Doughboy offers a unique, virgin vinyl formula that resists chemicals and ultraviolet rays. Doughboy also offers a Therma-Seal™ technique that provides enhanced durability and quality. Other offerings include a few different options for installation. Depending on the situation, one method might be better than the other.
EZ Clip Liners
Doughboy's EZ-Clip™ liners are installed at the top of the pool wall using an exclusive EZ Clip Receiver. They are available in beautiful, full patterned, bordered designs to match any unique style and home decor.
Overlap Liners
Doughboy's overlap liners are available in full print designs or standard solid blue. overlap liners are installed over the pool wall and secured with coping strips that hold the liner in place. Ideally, these liners are best suited for shallow, flat bottom pools and should not be used for multi-depth areas.
Expandable Liners
One of the most popular choices for vinyl pool liners is the expandable pool liner. Almost like a water balloon, expandable liners are able to contour and fit varying depths and angles. They are specially designed to expand smoothly into deep-end swimming areas. Additionally, expandable liners can also be installed in flat bottom pools.
Doughboy's uniform thickness, softness, and flexibility ensures maximum quality, liner longevity, and easy installation.
Have a swimming pool or hot tub related question? Contact Zagers Pool & Spa by email or phone at 616.896.1717 today!